Celayix has been operating in the employee scheduling and workforce management space for over 20 years. We have used our expertise to develop a best of breed schedule maker to help make scheduling easy.
Scheduling In The 21st Century Is Mobile & Flexible
Today's world is constantly on the go, and many businesses run 24/7. In this type of competitive environment, and the expectation for many businesses to manage and update their work schedule on a constant basis, you need something that separates you from the competition. Ideally, schedulers should be able to check their employee schedule anywhere, anytime. You need something you can do on the go, no matter where you are, and that's the Celayix Scheduler.
No One Should Schedule By Hand Anymore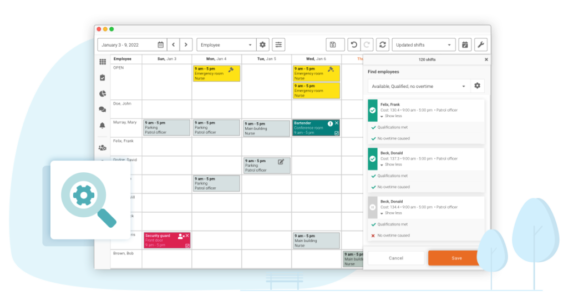 It's not ideal to have to open, edit, and redistribute a spreadscheet every time someone calls in sick. It's just not feasible, especially as a business scales and grows. You need something that allows you to manage your schedule anywhere and anytime. Our online employee schedule maker gives that option to schedulers.
Celayix offers options to create and adjust schedules on your desktop using our Scheduler. This can help to save you scheduling time and effort. This lets you do things like add shifts, change shifts, delete shifts, and clock your employees in or out. So, no matter where you are, you will know if your employees showed up for their shift. If not, you will be notified and can make an adjustment to your employees' schedule.
Keep Employees & Admin Staff Happy
Employees themselves also need options. Gone are the days where employees must go to a bulletin board or login to a computer to check their schedule. In today's age, checking your schedule or even checking INTO your shift should be as easy as checking your email. And every employee deserves to know how and when their schedule is available in a simple way.
With Celayix's Mobile App, employees can login, check their schedules, clock in/out of shifts, and submit time off requests. This is just some of the features available on the app. All they need to do is download the free app from their respective app stores. This lets them do all of the schedule or shift related activities right from their phone. The combination of the Celayix schedule maker and the Mobile app make our workforce management solutions an ideal business solution.
Have a situation where you want employees to clock in at a PC on site? Would you rather have your employees use their mobile phone and check in that way? Maybe you don't want your employees to clock in at all? Would you prefer them to call a supervisor and have the supervisor control the clock in? Or would you rather some combination of all those?
Solve Your Scheduling Issues All At Once
The Celayix solution allows for that as well. As well as the few possible workflows mentioned above, Celayix's schedule maker can be customized to suit your company's needs. So, what else can the schedule maker do?
---
Rules-Based Scheduling
Are you tired of spending hours scheduling your employees, only to find out that one has slipped through the net? They don't have the correct skills to work the shift, or their Safe Food Certificate has expired. Maybe they are restricted from working at a certain location, or they have gone into overtime costing your business money?
Well, fear not, because Celayix is here to help. Our online schedule maker and its powerful rules based engine, gives you the ability to apply rules to your schedule. This ensures that the employees with the correct skills and access get scheduled to the correct shifts. Also, if by chance the employee is scheduled incorrectly, the system will warn you.
Reduce Overtime
Within our online employee schedule maker, you can set up Overtime (OT) rules on daily, weekly or monthly bases. This can have multiple benefits for your bottom line. Firstly, if the employee has been scheduled into an OT shift, the system will indicate this to the scheduler. It will change the colour of the shift to red, but only the shifts that cause OT will change red. This instantly brings the shift(s) to the attention of the scheduler. Then, they can make an informed decision whether they want to keep the employee in the shift or find someone else. This can then result in massive cost savings to a business.
Another benefit for using this rule is that it prevents employees from self-scheduling themselves into OT shifts. If the rule has been applied then any shifts which would result in OT will not appear to the employee. This ensures that unnecessary OT does not occur.
Qualification Rules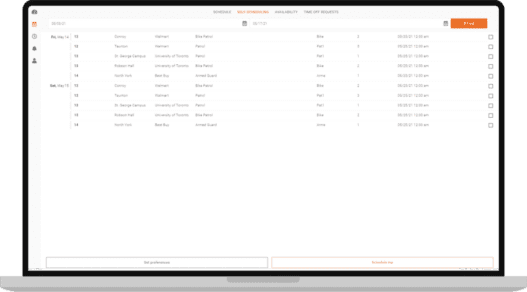 These types of rules are flexible and can be extremely helpful in ensuring that the employees who turn up to do the work all have the correct skills. Your business may have a legal or contractual requirement to provide staff members that have the necessary certificates. If this is the case, then these rules will be great, as they allow you to record crucial information. The benefit for this is that it enables the scheduler/supervisor to be proactive check when qualifications/certificates are due to expire. This allows them time to inform the employee that they need to renew their certificate by a certain date to continue working those shifts.
If an employee is scheduled for a shift they don't have the necessary qualification for, the scheduler will be notified. The message will inform them which shift has failed and why. This gives the scheduler a range of options. They can update the employee's record with the correct qualification, change the employee or simply ignore the message.
Minimum Rest Period
You may work in an industry with requirements for there to be a certain amount of time between shifts. If this sounds like your business, then this is the rule for you. This rule allows you to set a minimum rest period between shifts. For example, if the minimum rest period is 5 hours and an employee's shift finished at 5pm, they cannot be assigned to another shift until 10pm. If the scheduler did mistakenly assign them to a shift between these times, the system would warn them. It would also prevent them from saving the shift.
Restrictions
This is another rule with a lot of flexibility, as it can be used in a variety of ways. A few examples is that it can be used to restrict one or a group of employees from being scheduled to a certain service, location or site, as well as other criteria. It can also be used to restrict what services are displayed when selecting a customer or a site. These are just two areas, but this rule can be used in many other areas as well.
---
Artificial Intelligence
The Celayix schedule maker has been further advanced with the addition of Artificial Intelligence. We use artificial intelligence to ensue that your employee schedule is 100% optimized for your business needs. Our AI takes all of your historical scheduling data to learn about your needs and patterns. It can then offer suggestions on how you could improve your schedule to save time and money.
With AI, you can drastically transform your scheduling process. Instead of trying to find patterns manually, AI can use machine learning and deep neural networks to discover rules. This greatly reduces the manpower needed to find rules and customize pre-defined rules for each client.
How do we use AI in our Schedule Maker?
At the moment, Celayix has two tools that use AI. The first tool is to recommend best-fit employees. When Celayix AI suggests employees for a shift, it will not only show only those employees that are qualified for the shift, but also give them ratings and rank them. The second feature in this tool, the Verify Schedule feature, will recommend improvements to shifts that are already assigned. In addition to this tool, Celayix uses AI to add value-based recommendations in existing features, such as autofill and shift-bidding.
Further, Celayix uses AI and its rules engine for its Find Replacement feature. This provides a superior alternative to typical shift-swapping solutions. For most organizations, shift-swapping involves Employee A trading shifts with Employee B. Even with supervisor approval, there is usually no way to ensure that scheduling Employee B in that shift is the best value for the organization. This process also places the burden on the Employee A to find their replacement. Rather than duplicate a bad manual process, Celayix enables Employee A to simply drop the shift, and Celayix provides the supervisor with a fully compliant and best-fit replacement in seconds – one that is in the best interests of the organization.
---
Real Time Communication
In the world of shift based employment, communication is essential to scheduling employees in order to ensure both the employees are able to work their scheduled times, and the company is not short of any workers at any given time.
Also, more often than not, lack of communication will cause confusion between employees and conflict between employees and supervisors, which in the worst case will lead to toxic work environments.
One thing that did not exist in previous versions of our product was real time communication between an employee and their supervisor. Whether an employee is late checking in for a shift or sending in a time off request, real time communication is always readily available through the chat module.
Through this, communication between any employees in a company is enabled without the need for sharing any additional contact information and eliminates the need for any third party applications. It can sometimes be difficult for a supervisor to get a hold of their employees with ever growing contact lists of personal and professional contacts.
Any scheduling related issues can be discussed, as the module is conveniently designed for a user to have access to the scheduling information at the same time as the conversation. Through this, a company's scheduling needs and employee communication is encompassed in one application. Push notifications, which will enable notifications on devices to be received even if the application is closed, will ensure that important messages from supervisor to employee and vice versa will not be missed.
---
Time & Attendance and our Schedule Maker
For a supervisor, it may be very difficult to keep full control over their employees, especially when there are many of them. They want to quickly search for list of just his employees, see if they are checked in, and take appropriate actions if needed.
For this purpose, we've decided to create Celayix time and attendance to satisfy all the needs of a supervisor. Creating such an app comes with technical challenges that require proper solutions. We are working with up to thousands of employees for a single customer.
The app needs to be able so show all the employees, filter them by various criteria, and display the information in useful way. Because of big data, we need to show information in reasonably sized batches. We need various filters for standard type data such as date fields, time fields, date time fields, numbers, strings, Boolean or even special types such as statuses.
We also need flexibility in custom templates of table cells to format all data types in our way – many date and time formats, statuses. Additionally, supervisors need to do their work with a user-friendly, intuitive and standard desktop interface, as well as an optimized mobile interface.
Managing a Mobile Workforce
So, you use our schedule maker, and you want to make use of our time and attendance features. These features are an absolute essential when managing a mobile workforce, across multiple sites. If you manage employees across multiple locations, it's almost impossible to ensure that all employees are on site, on time. This is vital to ensure client satisfaction and employee productivity, but how do we do it?
Geofencing
Our time & attendance software is equipped with GPS geofencing. This involves schedulers creating a pre-defined area around a client/work site. Then, using the Celayix mobile app, employees can only check in/out of a shift when they are within that pre-defined area. Schedulers get a live map view and real-time alerts when employees clock in, out, or miss a shift. As a supervisor, this information is invaluable and can give you peace of mind knowing your sites are being covered.
---
Integration with our Schedule Maker
The best part about our time and attendance features is how well they integrate with our schedule maker. Thanks to this seamless integration, you can automate hours worked to hours scheduled with automated attendance matching. This integration can benefit you further when you integrate our tools with your payroll and billing provider. This can reduce the amount of time you spend on these processes, and the amount of human errors in your payroll & billing.
---
Celayix Mobile
Time cards in our Team Xpress application offer a way for employees to review changes to their working schedule, which includes modifications to time off requests and worked shift details. Once an employee has checked in and out of a shift, the changes are recorded, and these records can be viewed through the module. This allows employees to easily confirm that their working hours are correct.
The user can view their weekly shift details in a view that shows their totals for every type of worked hours their shifts correspond to, including time off requested for the week. The employee can switch between weeks to view their totals, allowing users to easily find the records they are looking for. For details of the working week, the employee will be able switch tabs from the 'total' to 'time cards.'
Multiple Views
This allows users to view their records according to every shift or time off record, sorted according to the day of the week. Here, for every record, users can confirm whether or not their worked shift is correctly recorded. From here, if a record is incorrect according to the employee, the supervisor can take action accordingly. However, once a user has selected an option, this cannot be changed to prevent a supervisor from taking action based on an incorrect confirmation.
From the daily view, by selecting a record, an employee can then view individual records corresponding to the week. For shifts, it will display all of the details of the shift, including the status of the shift, whether it is worked or not, location, and the start and end times of the shift. Below, the employee can also view the type of hours worked, like overtime hours and training hours. For time off records, the employee can view the details of the record and from here can determine whether the record has been approved.
Availability
The Celayix mobile app also send information directly to the schedule maker which can make life easier for schedulers. Employees can input their availability for the upcoming weeks. This provides them with better work-life balance and can reduce the number of no-shows and absenteeism rates. this availability feature paired with our autofill and rules based engine can truly help schedulers create a perfect schedule in a matter of minutes.
---
Schedule Templates
There are several ways to quickly create a schedule in our schedule maker. Users can copy/paste shifts, using multiple copy/replace functionality, etc. But if you want to create a schedule based on a template and use your templates more than once to create different types of schedule, the Schedule Templates feature is the best choice.
Every schedule template has three main properties: name (mandatory), description, and set of shifts. Users can create templates based on selected shifts, or just with empty shift configurations. Users can also create as many templates as they desire for different types of schedules: several templates can be used for weekly, monthly, daily, or a custom time range. Shifts in templates don't have exact dates, we convert shift dates to shift date offsets. Operating with date offsets in shift templates gives the user additional flexibility.
So, do you think your organization would benefit from an amazing schedule maker like Celayix? We think so too. Not only will you save time, but you can save up to $350 per employee per month with our workforce management tools! If you'd like to learn more, arrange a free, custom demo today, or speak to one of our Solutions Advisors!