Managing events and venues brings unique scheduling and time & attendance problems. You may experience large, unpredictable, or seasonal demands. You may have changes that happen right up to and during event time where shifts and locations get reassigned. Celayix solves all of your scheduling and time & attendance problems with our automated workforce management software.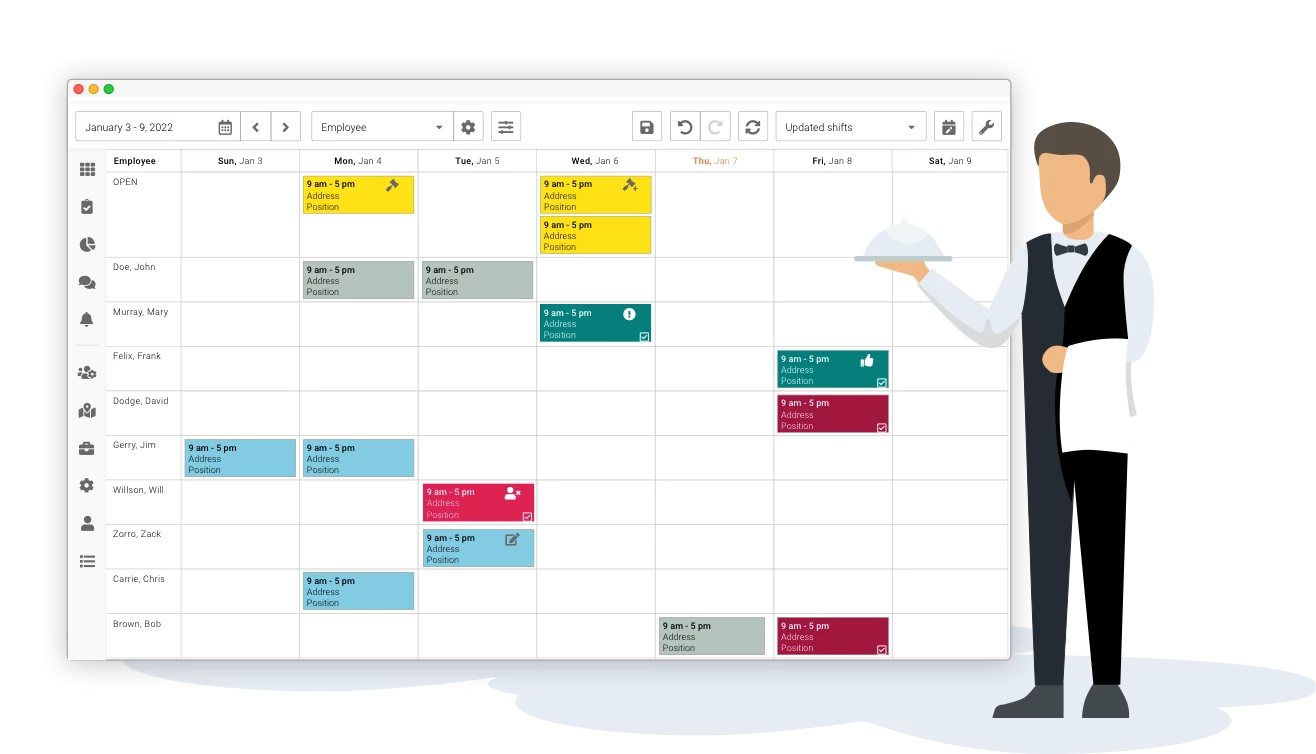 TRUSTED BY INDUSTRY LEADERS
TRUSTED BY INDUSTRY LEADERS
Get Staffing Levels Right Every Time
With the Celayix Labor Forecasting module, never worry about under or over staffing at your venue again. Our schedule templates makes scheduling events faster and easier than ever. Event ratios help you manage your staffing levels based on the number of attendees at an event.
Cost & Budget Control
Our rules-based engine makes it easy for you to schedule based on budget and eliminate your unnecessary overtime expenses. Budgets can be set for each employee and site. You receive alerts if a schedule exceeds your required budgeted shift hours. Our enhanced reporting allows you to compare schedules and other data to monitor and control costs at all times.
Handle No-Shows & Sick Calls
Last minute sick calls or no-shows can cause havoc in the run up to an event. The Celayix Find a Replacement tool generates a list of available and qualified employees in seconds. You can choose or allow Celayix to automatically reach out to the best fit.
Streamline Payroll & Billing
Time and attendance errors are expensive. They can cost as much as 8% of your total payroll value. Not anymore, thanks to Celayix. Our software captures real-time time and attendance data through our mobile app or time clocks. This information can be easily handed over to your payroll provider. Start reducing payroll errors and reduce time theft today to make some huge savings.
The End of All-In-One Compromises for Events and Venues
We will give you the All-in-One system with Best-of-Breed functionality. Our integrated solutions make sure that 100% of your workforce management requirements are met.
Helping Events and Venues for Over 20 Years
Terry Selaices
Director of Food & Beverage, The Sands Expo and Convention Center
I am very pleased with Celayix! It has made a huge difference to our scheduling process, resulting in our schedules being completed in 5% of the time and no longer requiring admin staff to call out to employees.
See How Much Money Celayix Can Save You!
 Would you like to see just how much money you can save every month with Celayix?
Let one of our Solution Advisors take you through a detailed cost-benefit analysis today.