Streamline your scheduling process and manage employees more effectively. For hospitality organizations with highly variable staffing demands, Celayix offers "rostering" based pricing so that you only pay for what you schedule each month – Celayix takes care of monitoring and billing. This way, you can manage seasonal or uncertain demand during unpredictable times.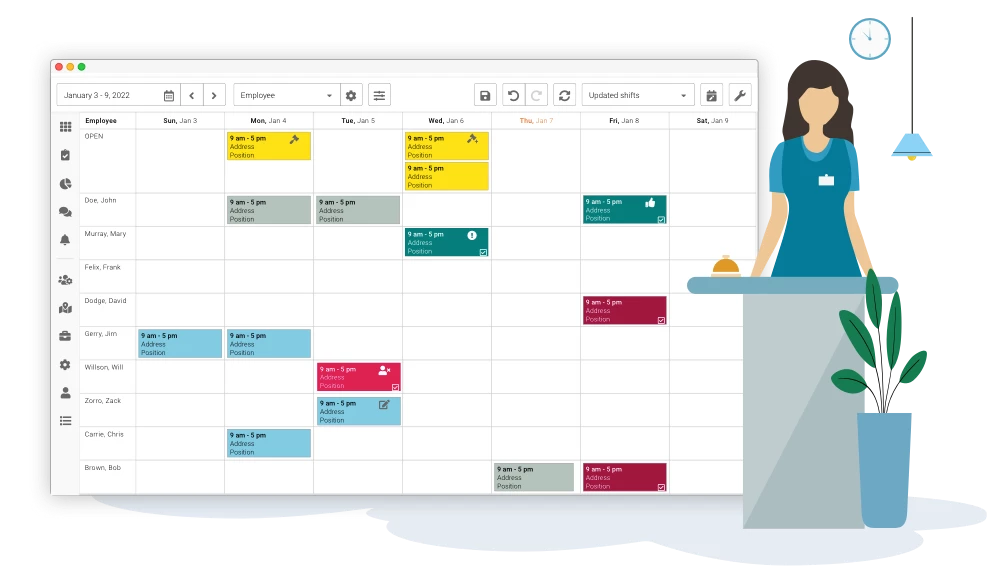 TRUSTED BY INDUSTRY LEADERS
TRUSTED BY INDUSTRY LEADERS

Create and send schedules in minutes
Generate weekly or monthly schedules with the shift types you need. All schedules follow rules that fit your policies, contracts and objectives. Only qualified, available employees are scheduled to ensure the highest service level is provided to your customers. Schedules are created in minutes allowing supervisors to focus elsewhere!
Simplify your workforce management
Managing your workforce has never been easier. Celayix makes it simple to manage your workforce all from one place. You can track time and attendance as well as schedule staff in minutes. Managers can accept or deny time off requests, set shift tasks, and swap shifts all from our employee app too.
Instant communication
Keep management and employees connected seamlessly. Management can communicate instantly with their teams via the Celayix Mobile app through instant shift notifications and messages that employees can respond to.
Easily manage scheduling chaos
What if we told you that you can manage sick calls, no-shows and last minute schedule changes with a click of a button? Well with our Find a Replacement feature you can. Replace no-shows with available, qualified employees in a matter of minutes!
Roster-based pricing
The demand for staff can fluctuate depending on the time of year. Our roster based pricing ensures you are only paying for the employees scheduled each month. We take care of time tracking and billing. Now you can manage seasonal or uncertain demand during unpredictable times.
Automated scheduling at your fingertips
Our self-scheduling and shift-bidding options allow your staff to pick their own shifts as soon as they are released. Giving employees control over their own schedule provides flexibility as well as saving you a lot of time.
The End of All-In-One Compromises for Hospitality Providers
We will give you the All-in-One system with Best-of-Breed functionality. Our integrated solutions make sure that 100% of your workforce management requirements are met.
Helping Hospitality Businesses for Over 20 Years
Shanna Rigby
Scheduling Manager – Caesar's Entertainment
We use Celayix for all our extra shift booking for multiple properties in the city. The system is easy to use and the Customer Support team offers quick resolutions. I highly recommend them!
See How Much Money Celayix Can Save You!
 Would you like to see just how much money you can save every month with Celayix?
Let one of our Solution Advisors take you through a detailed cost-benefit analysis today.