Achieving a healthy work-life balance is something that many shift workers crave. A work-life balance can be defined as being able to meet work demands, as well as balancing family life and social activities. For many shift workers, this balance has proven difficult to attain.
Shift work is defined by the Sleep Foundation as any shift that falls outside of 6am to 7pm. Numerous industries such as healthcare, security, and hospitality have taken advantage of shift work and the flexibility it brings. However, some employees' shift patterns have proven to prevent a healthy lifestyle. Working irregular hours requires shift workers to adapt to frequent changes in their social schedule and biological clock. This can lead to a variety of health problems, which has become a big concern for industries worldwide.
Many have called for companies to prioritize the health of their workforce, rather than let it be an added bonus. It's widely believed that all companies should adopt an in-built culture that promotes and supports the wellbeing of their employees. Despite this desire, statistics tell us that this is yet to happen. As per a survey by digital wellbeing company meQuilibrium between December 2020 and July 2021, burnout cases rose by 21%. Additionally in the same period, work-life balance challenges increased by 9%. These statistics translate that the two are directly linked and that employees may need to take it upon themselves to enforce change.
We're about to look into how a poor work-life balance of shift workers has resulted in an occupational phenomenon.
The Ongoing Occupational Phenomenon
Work-life balance continues to grow in importance due to the increase in burnout cases for shift workers. The recent COVID-19 pandemic has proven to be a huge burden in trying to reduce these numbers, and this has prompted employers to act.
We've become accustomed to a world where stress and anxiety in the workplace are a daily norm. We turn on the news at home to digest the doom and gloom of today's daily headlines. Some companies are worried that they'll no longer make a profit which is increasing job insecurity and anxiety in the workplace. While a lot of employees are being extremely overworked. This is stimulating the occupational phenomenon that we call burnout. Leaving employees feeling a sense of helplessness and hopelessness, employers are being forced to juggle their priorities in an act to prevent burnout.
The question we're asking is, what actions can shift workers take? Let's discuss ways that they can achieve a healthy work-life balance.
Prioritize your health
Looking after your physical, mental and emotional health should be your main priority. But that's not always straightforward as a shift worker. The erratic and often unsuitable shift patterns can cause an unstable work-life balance. Some employers fail to realize this, which forces employees to take matters into their own hands.
There is no task in any job that is more important than your wellbeing. If you are battling a chronic illness, take days off until you're fit enough to start working again. If you're struggling with depression, anxiety, or any other mental illness, then undertake therapy sessions to help you cope. Overworking yourself will prevent you from feeling better and will likely lead to more days off work. You need to learn to say 'no' when you're not in a fit state to work.
More notably in recent years, mental health has become a prominent workplace issue for shift workers. Due to disrupted sleeping patterns and lack of family life, many shift workers fatigue and burn out. Workplace Strategies for Mental Health found that 82% of Canadian employees indicate that mental health impacts their work. This results in companies losing millions per year from absenteeism, productivity, and healthcare. Flexible working, extra breaks, and encouraging vacation time are all helpful towards providing a healthier working environment for a shift worker. But if a company is not providing a stable work-life balance, then it's time for them to speak up.
If companies don't already have a wellness program, then they should invest now. The very nature of a shift worker's life requires all the health protection they can get. SHRM reports employers are reluctant to invest in healthcare insurance due to the increasing costs. Nevertheless, adopting a wellness program could solve the problem. Not only would this benefit the employees' health, but also the companies' financials. According to GoRemotely, health and wellbeing programs result in a 66% productivity and 11% revenue increase per employee. These statistics speak volumes, which means that the employee shouldn't have to.
Find a job that you love
Although work is viewed as a societal norm, it shouldn't have a strain on your life. Many believe the perfect job doesn't exist but finding a job that makes you feel fulfilled definitely does. People's perceptions of the perfect job can vary from working within a field they're passionate about, to a company whose values align with theirs. It cannot be categorized as a one-size-fits-all. The "perfect" job will improve work-life balance and many shift workers should search harder to find it.
Finding your desired shift work can prove to be a difficult task. The unpredictability of many roles can leave you lacking a full understanding of what's expected of you. But what first needs to be understood is that you have the power to choose a career that you're passionate about at a company that compliments your values. Many talented workers are willing to leave their jobs for workplaces that are more aligned with their personal beliefs. As many as one in four workers plan to quit their jobs with the confidence that they can gain more accommodating hours and better working conditions.
The bottom line is that we're all in search of an optimum work-life balance. If you desire more free time to visit your family, choose a job that allows you flexibility. If you're trying to earn more money then look for a company willing to pay.
Don't stop until you find the company and a role that promotes the healthiest work/life balance for you.
Engage in your job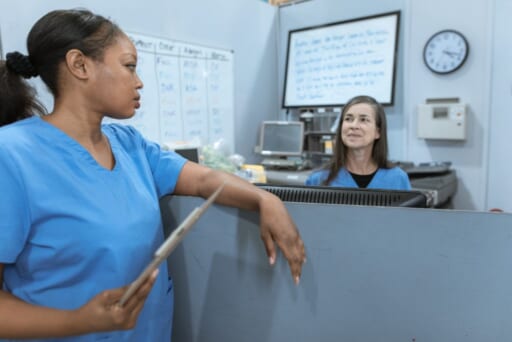 Caring about the work you do and the company you work for is something many shift workers want to experience. Having a job that doesn't satisfy your home life will never represent a healthy work/life balance. The nature of rotating shifts can sometimes be of great convenience to shift workers and how engaged they are in their role. However, they can also have the opposite effect.
Many believe it should be the employers' responsibility to support their workforce in feeling more engaged. Despite this, many are still ignorant of its importance. Having a flexible schedule is paramount in helping an employee feel fully engaged within their role. It gives them the empowerment they need to feel valued by the employer. According to a recent U.S. survey, 49% of hourly workers say that they'd be willing to take a reasonable pay cut if they had more control over their work schedule. Employers should prioritize giving their workforce the lifestyle they deserve.
Finding what's right for you
The ball is in your court. Do you want to settle for a career that does nothing more than pay your monthly bills? Or do you want to choose a career that makes you feel fulfilled and provides you with the perfect work-life balance? It's likely that the latter may take that little bit more effort, but you can guarantee that it will be worth it.
The first step to achieving a work-life balance is to prioritize your health. Nothing should come before this. It goes without saying that everybody enjoys life the most when at their healthiest, and you shouldn't let work come between this. Once you're in the right frame of mind, choose a job that you love. It may be in a field you're passionate about, or at a workplace close to home. The way you view a job being "right" for you may be viewed differently by someone else. Now it's time to feel fully engaged at your happiest and healthiest.
Chase the perfect work-life balance for you!