Manage your guards with ease & efficiency & keep client sites safe.
Having worked with security companies for over 20 years, we have all the features and functionality you need for effective workforce management.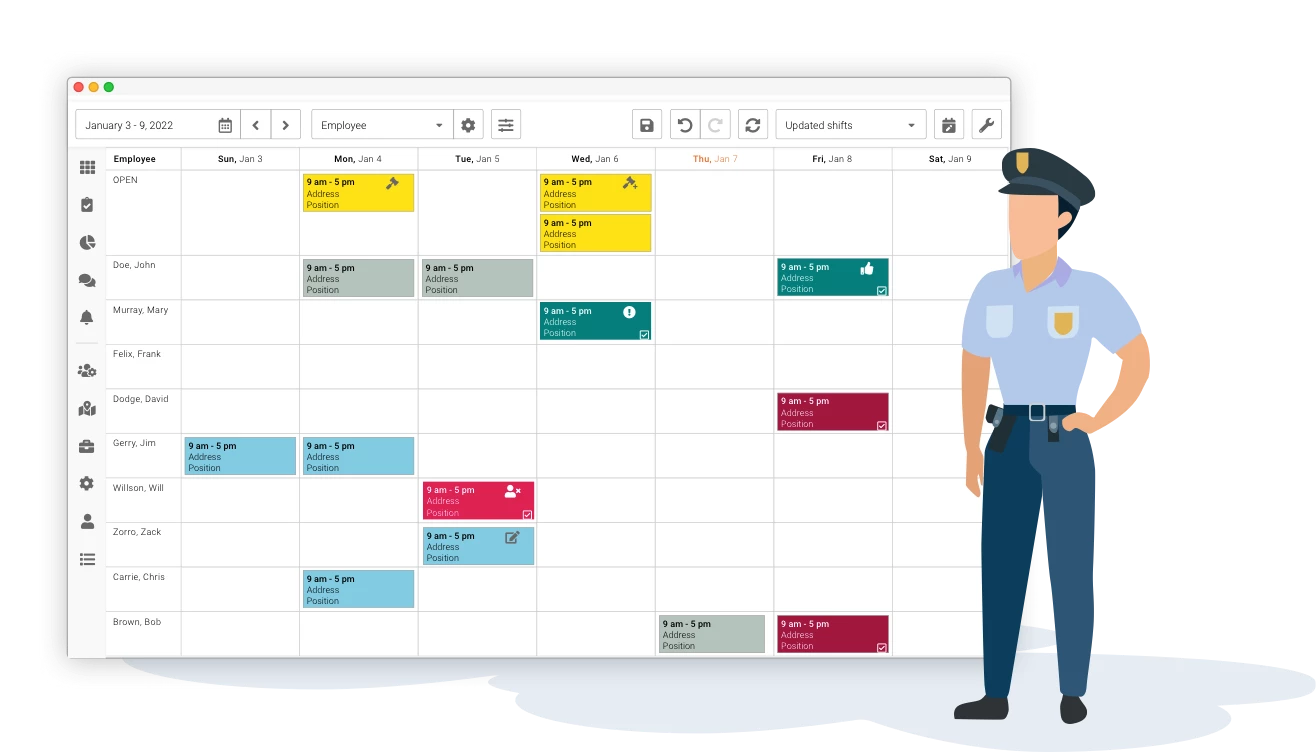 TRUSTED BY INDUSTRY LEADERS
Ensure Guards are at the Right Place, at the Right Time
With our geofencing tool, you ensure guards are checking in and out of their shift at a specified location. Geofencing is a virtual perimeter around a geographical area. Simply set up a geofence around the worksite and employees can't check in unless they are within the geofence.
This gives you and your client peace of mind. No matter where you are working you can check where all your guards are from your phone or computer.
Monitor Guard Activity & Keeps Guards Safe
Assign tasks to your security workers to ensure they're focused on the job. As well as seeing guard location, you can track which tasks they've completed. 
Request "safety checks" from your guards as often as you'd like to verify they are safe and still on site, using our GPS geofencing technology. 
Find a Replacement Instantly
If a guard calls in sick last minute or is a no-show our system alerts you instantly. Our Find a Replacement feature finds you another equally qualified guard in one click. Your employee gets notified instantly for immediate shift coverage.
Replacement employees are always fully qualified and available and our system will tell you who the best fit is based on your scheduling history.
Say Goodbye to Non-Billable Overtime
We know better than anyone how hard it is to manage schedules and stay within the contracted, billable hours. With Celayix, you can set rules that prevent guards from going into overtime while you create your schedule.
We've saved clients up to $100,000 per year by helping them eliminate overtime! 
Keep Guards Happy & Reduce Turnover
The high employee turnover rate in the security industry is legendary. With average turnover rates of 200% or more at many client sites. We offer features like self-scheduling and shift-bidding that gives your teams autonomy over their schedule. This is proven to reduce turnover rates and improve overall morale.
100% Accurate Time Tracking & Payroll
Timesheet fraud can cost you as much as 7% of your total payroll, and 43% of workers admit to padding their timesheets. That's a lot of money. 
Celayix tracks hours worked and automatically matches with attendance reports to calculate payroll which ensures 100% accuracy and removes human error. Give your clients peace of mind and only pay for actual time worked on site. 
Grow Your Business & Improve Reputation
With Celayix, comes improved time tracking and attendance monitoring which means better accountability. Our clients have grown from strength to strength, and have scaled their operations with ease, as well as generated more demand from clients. 
The End of All-In-One Compromises for Security Services
We will give you the All-in-One system with Best-of-Breed functionality. Our integrated solutions make sure that 100% of your guard and patrol services requirements are met.
Helping Security Companies for Over 20 Years
"The support from Celayix has been fantastic – always there when I need them. We are well pleased with the product's performance and their team are subject matter experts."
See How Much Money Celayix Can Save You!
 Would you like to see just how much money you can save every month with Celayix?
Let one of our Solution Advisors take you through a detailed cost-benefit analysis today.