It doesn't matter what industry you operate in; your employee scheduling process is no doubt a core function of your workforce management. Therefore, it's fair to say that employee scheduling is a significantly important aspect of the running of your business. As simple as it sounds to outsiders, employee scheduling can be mindbogglingly complex, particularly when it comes to shift workers. When you consider all of the variables that need to be considered such as budget, overtime, availability, schedule equality, and demand, you quickly see how easy it can be to get overwhelmed and make mistakes. Fear not schedulers, because we're about to run through 5 ways to improve your employee scheduling process.
How Software can improve your Employee Scheduling Process
In the following points, we're going to assume you use some form of employee scheduling software. If you're not us, let that be our first piece of advice. There are countless reasons to consider using software like Celayix to streamline your employee scheduling process, such as;
Reduce your time spent managing schedules by up to 95%
Remove unnecesary overtime from your schedule, completely
Improve schedule accuracy and reduce the chance of errors
Integrate with other core business functions such as billing or payroll
There's more, but our homepage goes through each of these reasons in detail if you want to read more there. However, even if you don't use software right now, this blog will help anyone in charge of setting a schedule. Whether it's facilitated by software or executed using pen-and-paper, this article should make a difference to your employee scheduling process.
How to Improve your Employee Scheduling Process
1 – Look at the Big Picture
Look at efficient scheduling as a strategic tool that you can use to improve your organization. Take a strategic approach to your employee scheduling process. Meaning, look at your process in terms of where you could be increasing efficiencies or reducing costs. This could be examining the amount of overtime scheduled and then trying to spread those hours among more employees.
For example, let's say you have 3 security guards working 135 hours a week at site A. They are working 5 hours of overtime each. Through analysis of your schedule, you see a guard on site B, with the same expertise as the other guards. He is only working 25 hours a week. This represents an opportunity to maximize the potential of your human resources. Employee scheduling software has the potential to improve the strategy of an organization overall. It can reduce overtime, fill the schedule of a previously underemployed staff member, and decrease the chance of employee turnover due to burnout.
Software like Celayix really shines when it comes to managing multi-site businesses. Traditional pen and paper often confine schedulers to working on one site schedule at a time. However, with the right software, you can truly look at your employee schedule from a wider perspective, and use your workforce to its fullest potential.
2 – Empower Employees
The implementation of flexible scheduling is an easy way to empower your employees. When employees can set their own schedules via shift bidding, or self-scheduling, they can achieve a better work-life balance, and be happier at work. Showing trust and autonomy to employees most certainly increases happiness and satisfaction, thus reducing turnover and in turn, recruitment & training costs. In this way, employee scheduling software not only improves the morale and productivity of your staff, as a knock-on effect, it tends to increase the level of service you can provide too!
While this may seem like a drastic change to make to your employee scheduling process, you'd be surprised with how much it can help. You can start by assigning 50% of your shifts during schedule creation, and offering flexible scheduling options for the rest.
3 – Utilise Employee Availability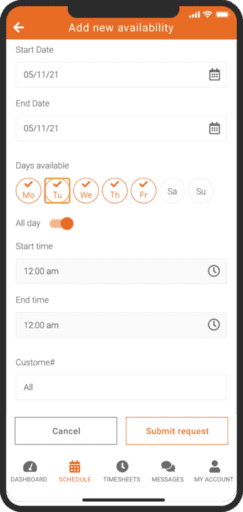 Here's another way to improve your employee scheduling process that doesn't necessarily require software. While the software will streamline the process, you might have your own internal methods to achieve the same result. Give your employees the option to input their availability, particularly if your employees work irregular shift patterns. This is another way to provide some level of autonomy to employees and help them achieve work-life balance.
By going through this extra step in the employee scheduling process, you'll quickly notice the reduction in late check-ins, no-shows, and overall absenteeism. It can be hard for shift workers to organize their personal life around their ever-changing schedules. Giving them this option means they can alert you if they can't work a certain day, well in advance of schedule creation. It also removes paperwork and extra effort involved around time-off requests, which is an added bonus.
4 – Communicate
Have you ever considered the impact of poor communication on your organization? Employee scheduling software allows management and staff to communicate directly with one another. A great way to improve your employee scheduling process is to communicate effectively and clearly with employees. This truly applies for all businesses, whether or not they use software. Management should avoid plaguing employees with vague, unclear communication. And vice versa, of course.
One of the key areas that often cause problems for employers is communication and distribution of the schedule. Is it printed out and placed on one notice board? Is it provided to employees at the last minute? All of these things matter, so be sure to consider them. Again, while this is made easier by employee scheduling software, it's not absolutely essential. Take the time to consider where employees want to see their schedule – should it be emailed? Is there a portal they can log in to to see their shifts? If schedule communication is handled poorly, it can lead to other issues like missed shifts, changes not getting highlighted etc. In fact, bad communication in the workplace can decrease employee productivity, motivation and increase mistakes. This makes it all the more imperative than to ensure free-flowing, accurate communication within your organization.
5 – AUTOMATE!
If you truly want to maximize the efficiency of your employee scheduling process, you simply cannot ignore automation. With the right tools, you can streamline your process, and remove so many of the obstacles that schedulers face. Software like Celayix can help you automate your employee scheduling process is a number of ways. Our rules-based engine is the driver behind our most popular tool – autofill. Schedulers can simply highlight their open shifts, and use autofill to assign employees based on their own business rules. Typically, our users use these rules to avoid scheduling overtime and to ensure that shifts are assigned to those that are qualified. Yes, you read that right, schedulers don't have to go through their employees and manually assign them to shifts!
Celayix also uses artificial intelligence (AI) to drive our other automation tools. Let's take a home healthcare agency for example. More often than not, it's beneficial to assign the same nurse to the same patient regularly. This, as you can imagine, makes scheduling that little bit more difficult. However, Celayix AI will gather your historical scheduling data, and recommend best-fit employees based on a number of factors! While this is somewhat similar to the autofill function, it uses a lot more data to generate recommendations, which optimizes your schedule even further.
Finally, Celayix can help you automate your billing and payroll processes. The software has a wide range of integrations, which work to simplify the provision of data to your other systems. These integrations and automations not only save you time and effort but also reduce the chance of error in your payroll and billing processes. Improving the accuracy of this data transfer also ends up saving you money, win-win!
Video: How to Improve Your Employee Scheduling Process:
Let us help you
As providers of best-of-breed employee scheduling software, it's fair to say that we know a lot about the process. If you'd like to try out our software, you can avail of a free trial. Or, if you'd like to hear more about how Celayix can help you improve your employee scheduling process, you can request a tailored, free demo here! Our solution advisors will be happy to answer your questions and give you advice on best practices.