Are you looking to hire security guards for your business? Want to know what kind of qualities the ideal candidate would possess? Well, you've come to the right place. There are numerous options to choose from the security solution that you think would best suit your business needs. However, the most traditional security measure of security guarding is still preferred by a lot of businesses over other remote security solutions.

However, hiring the right security guards can be a difficult task as there are various factors to consider regarding the candidates' skills and attributes. As we know, the average security guard company suffers from extremely high turnover rates, costing them unnecessary time and money. That's why hiring the right security guard is important as it reduces employee turnover and ensures that clients are being guarded by the right person.
In many instances, security guards don't fit well with the environment within your organization. Security guards have an impact on your business every day and hiring the wrong guard can cause a range of problems. These are the traits that poor security guards obtain: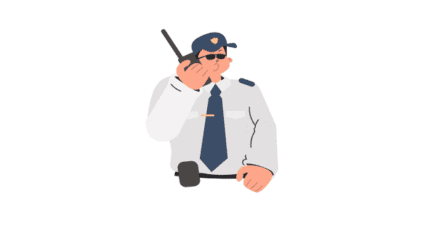 They Seem Preoccupied.
Haven't Worked Your Schedule Before.
Seem To Have Biases.
Little to no previous experience
Not familiar with your geographic area.
They have the wrong personality or temperament for your location.
Qualities To Look For When Hiring
Are they trained?
The theoretical, as well as practical training of a security guard, is not sufficient to handle any real threat. It's important that you are provided with security personnel who are well-trained and equipped in public interaction, security techniques, weapons technology, and risk assessments. All this will ensure that they are capable enough to deal with any type of incident that may take place during the course of any special event or a regular day.
sufficient experience
Knowing about the overall experience of the security guard is also a very major thing to ask for. Always remember that a well-experienced security guard has good networks with the local authorities, plus they are also familiar with the local crime specifications which makes it easier for them to plan their security schedules accordingly. And above all, you get a good chance to have access to experienced manpower to protect your property.
Communication Skills
Good interaction skills are equally essential just as proper training and license are. Security works need a preventative approach to aggression and crime, thus, knowing how to properly deal with people and having the capability to ease a situation before it intensifies is very significant. If your security guard will be dealing with other staff members of your business or helpers of your home, you want to be assured they all can handle any situation professionally and communicate adequately, both as a defender and savior. Long story short, the security guard you hire must have the ability to work in a team and should use their resources and actions wisely.
Fitness
Hiring an unfit security guard is never a good decision. Yes, you might save some money, but think of the problems you might have to face. It can be hard for unfit security officers to provide services like patrolling and chasing burglars. If you want to get the best security for your office, it's best to opt for fit security guards.
Vigilant
Your security officers must always be alert to any danger in the surroundings. The whole point of having professional security guards at your firm's doorstep is to keep intruders out and make it a safe place for your employees and customers. You won't be able to do so if your security personnel is constantly distracted.
You should hire security officers who have received extensive training. Your guards should be quick on their feet and be able to act smartly during a dangerous situation.
Quality Service
Your security team is representative of your company. Security needs to provide the same levels of customer service that you would. It doesn't matter if they're a company or private hire they represent you. Consider their approach to customer service. Decide whether it fits with your company mission and meets your standards. If you are hiring a security company you want to make sure customer service is something you get. You don't want to sign a contract for poor client service and rude customer care. The security officers on your property will be the only contact some visitors have. You want it to be a good experience.
Hiring security guards takes planning
Although hiring security guards quickly is much easier, in the end, it will cost you more than it's worth. Hiring unqualified security guards is detrimental to a company's reputation and financial health. When undergoing the hiring process, make sure to take your time and create an effective screening process to ensure that you will get the most qualified and experienced security guards possible. Through the efficient recruiting of the right guards, you can be confident in knowing that the long-term health of your company is in safe hands.