Workforce Management is a process that aims to optimize employee productivity by ensuring that the right person, with the right skill set, is assigned to the right job at the right location and time. This enables you to make sure that your employees are positioned in a way that allows you to meet the demands of your clients and their various project needs. This has become essential for several industries, including cleaning services, security, hospitality, events and healthcare that utilise shifts and sell hours.
Within the cleaning services industry context, Workforce Management will allow you to effectively plan shifts according to the upcoming project and job needs, and assign employees with the right skills to meet these needs. By having the correct number of staff at a job site with the right skills, you can reduce operational costs, enhance productivity, and ensure that your customers are getting a quality customer experience that is within budget and allocated time frame.
What Is Operational Efficiency?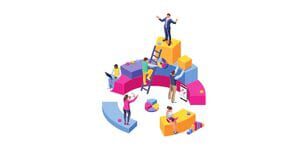 Operational efficiency is the ratio of your business's costs of producing your products and services to the revenues generated by selling those products and services. Operational efficiency is an important performance indicator for businesses as the higher your operational efficiency is, the lower your costs are to generate the same or more revenue.
Large companies tend to focus on improving their operational efficiency regularly through automation because they often use more resources than they need to hit their revenue goals. While small businesses tend to operate more efficiently, focusing on improving their operational efficiency can significantly boost their bottom line. Bain and Company recommend that all businesses should incorporate an efficiency mindset into their business model to avoid adding excess resources that only provide limited benefits.
How WFM improves operational efficiency
1. Increases Employee Satisfaction and Productivity
Patterns of unhappy employees are often indicated in behaviour and attendance.
Low morale is apparent in depression, low energy, and an uncharacteristic attitude, leading to an increase in missed shifts and constant sick days, which can be tracked with a time clock.
By implementing workforce management, like a digital timekeeping system, employers can closely monitor such behavior and discuss with the effected employees how to find a solution. When employees are consistently showing signs of dissatisfaction through their body language and missing shifts, sometimes that's the result of being unhappy with how they are being scheduled.
If the change in mood can be resolved simply by making changes to the schedule, then it would certainly behove management to do so.
2. Improves Customer Service
Increased employee satisfaction is created through improved customer service. Research has shown that employee satisfaction is directly correlated with higher consumer profits. A satisfied employee may:
Help a business develop a positive and strong brand image, which will attract new and existing customers
Retain customers, since satisfied employees are likely to be more engaged with the customer through customer loyalty
Workforce Management systems can usually track attendance history to discover trends, which directly correlate to customer service. For example, if there's a frequent absence trend, management can find solutions to solve it so that customer experience doesn't deteriorate due to unintentional understaffing.
Along with employee satisfaction, workforce management systems allow employers to add customer service performance. Managers can then follow certain criteria to assure employees are engaging with customers and adhering to company standards.
3. Reduces Expenses
Turning employee time and pay calculations into a digital practice eliminates errors and ensures that laws and rules are met during payroll. Research indicates that organizations with optimized workforce management spend 33% less on unplanned overtime.
Using a WFM system helps reduce expenses by helping businesses comply with federal and state laws, creating accurate forecasting and scheduling, real-time visibility, and increased productivity.
4. Increases Productivity
With an automated approach to workforce management, allows for more data to be accessible providing the power to create better business decisions.
Being able to hire the right workers, at the right time allows companies to hit production goals without hindering quality. Employers can then make sound business decisions to avoid over or understaffing which helps neutralize labor costs. After implementing a WFM system, employers can spend less time doing administrative work to focus more on their employees and guests.
5. Tracks Time and Attendance
Using digital workforce management allows for easy time and attendance tracking. This reveals attendance patterns for individual employees and helps predict staff and scheduling errors or employee absences in the future. Time and attendance software like Celayix reduces the time it takes to manually enter employee times, scheduling, or payroll.
With an automated system time and attendance, report can be created instantly. This allows employers to view reports on employee time worked, absences, scheduling, or job and inventory details.
How can Celayix Help?
The adoption of systems such as Celayix for businesses in need of a WFM software can allow companies to cut down on heavy admin duties and focus on more pressing issues such as looking after guests and improving their experience. With the integration of AI into the Celayix platform, schedules can become an automated processes for hospitality managers allowing them to cut the time it takes to create a shift schedule by 95%.
Software is continually changing the way hospitality operates. In order to stay competitive, its critical for hotels to stay on top of software trends in the market such as the three highlighted above. With the adoption of new technology, hotels can make their processes more streamlined and efficient whether it be front of house, back of house or management. New software allows them to cut out tedious admin processes such as scheduling, phone reservations and billing and focus on the customers needs instead.