Millennials in the workplace is a hot topic among businesses worldwide. Millennial employees are already the most significant component in most workplaces. The millennial generation is predicted to make up 75 percent of the worldwide workforce by 2025.
With increasing millennials employees, companies must gain a deeper grasp of what Millennials demand from their organizations. This will allow managers to provide a personalized employee experience throughout their journey.
Millennials have distinct tastes that have resulted in changes in consumer behaviour, education, and professional relationships. Millennials can be an essential component of any workforce because of their open-minded attitude, early exposure to technology, and desire to make their workplace culturally diverse and fun.
This post discusses millennial employees, how to attract and retain them in the workforce, and why they are crucial for any organization.
Why Discuss Millennial Employees?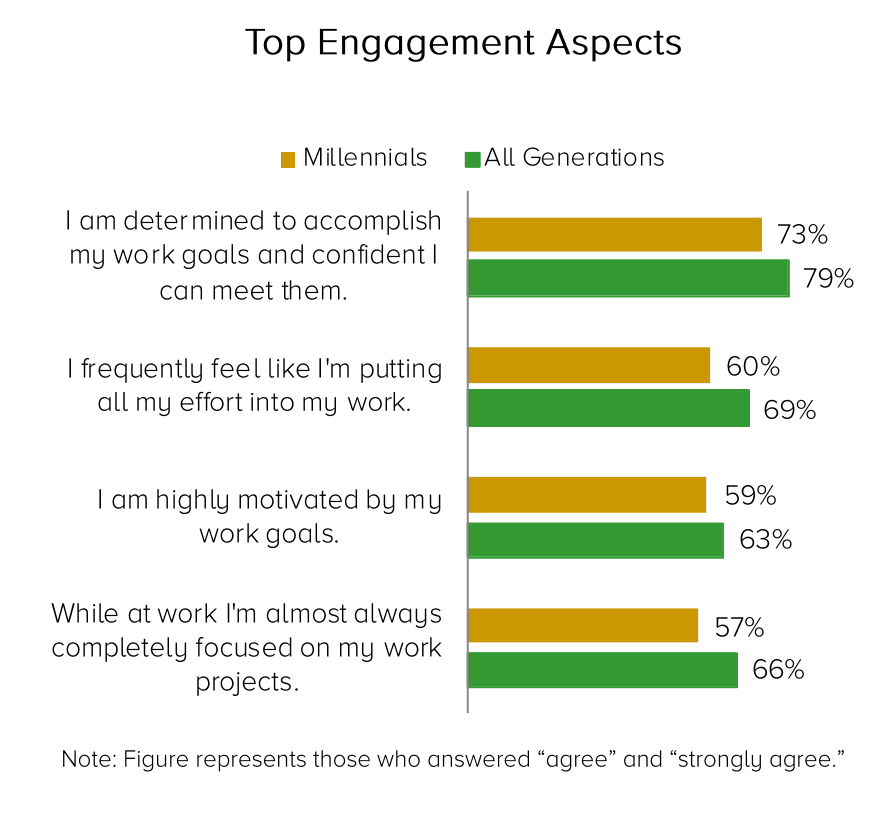 There isn't a distinct characteristic between millennial employees in comparison to others besides being born between 1981 and 1996. However, the ascent of millennial employees has been nothing short of spectacular.
There must be a reason why millennials are likely the most studied generation to date. Research has pointed out that they are one of the largest cohorts available to study, with more than 80 million young adults. But, there has to be something more than that?
Fortunately, there is! Millennial Employees are the first generation to employ technology as a focal point of their careers. They are also the first generation to prioritize flexibility and work-life balance over long-term job security while seeking a job. There are many more studies comparing between millennial employees and older generations.
This generation is not just the future of the workforce. Rather, this generation is revolutionizing workforce management and how a workplace should operate. To give a brief example, the study conducted by the SHRM on Millennial Employees' Job Satisfaction and Engagement shared: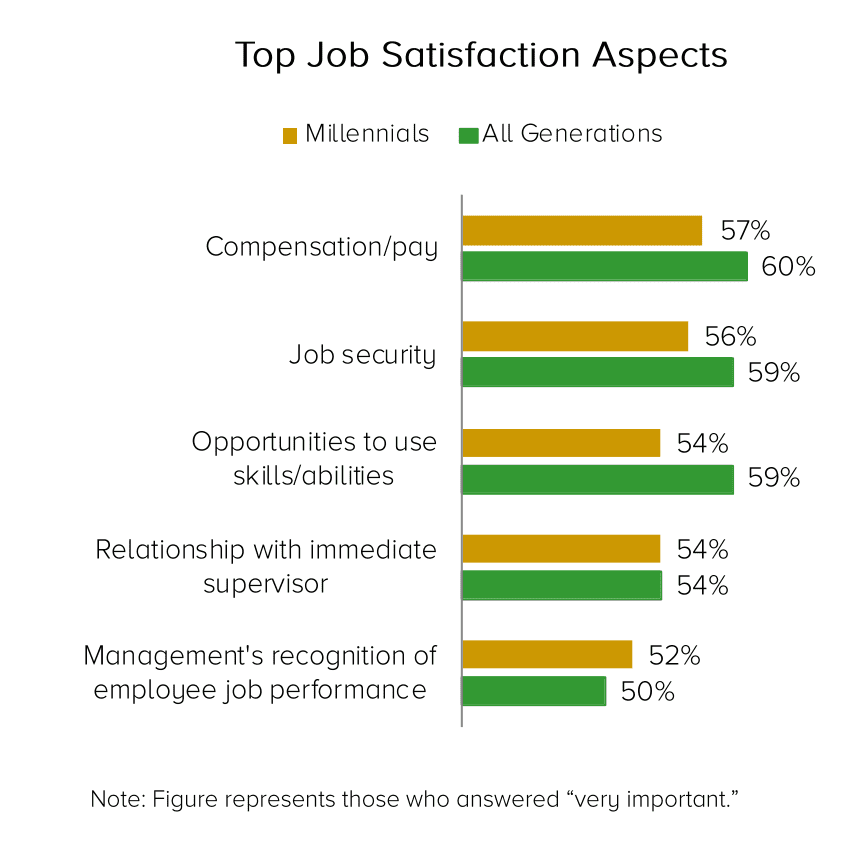 Most Millennials are satisfied with their jobs, although 6% less than the average for all employees.
Like all employees, millennial employees also believe that compensation and job security are the primary contributors to job satisfaction.
However, compensation or pay is also the aspect with the most significant gap between importance and satisfaction for employees.
These findings clearly point out that the demands of this workforce differ. So let's find out how employers can attract and retain millennial employees.
Steps to Retain and Attract Millennial Employees
Understanding the three essential dimensions
Some millennials try to escape a poor environment, such as a lousy boss, workplace politics, or a "stuffy" culture. Many people feel overburdened and underpaid for the work they undertake. Other millennials want to "level up" to a better environment, even if they are content with their current situation. Organizations that perceive high-potential talent retention as a strategic advantage must be aware of this desire to "level up" and give opportunities to employees with this requirement.
We recommend that firms focus on three areas to effectively attract, retain, and engage millennials in the workplace:
The people: Millennials said that the people they work with are a massive part of their experience. They place a high value on their work team, employer, mentors, and friends. To recruit and retain millennial employees, foster an environment where they can form friendships.
Make sure that supervisors and mentors are adequately trained and have time to connect and create relationships. Millennials are more likely to leave if they don't feel like they belong at work.
The job: Millennials embrace social responsibility activities and expect their employers to be engaging and meaningful. What they do and how they do it are critical aspects of their work experience.
Support for their work/life balance is equally vital to them; they do not want to be constantly linked to work. Improve workplace flexibility to attract and retain Millennial employees. Work should be structured in such a way that it is engaging, purposeful, and allows people to live a balanced life.
The Opportunities: Millennials are concerned that they will become stagnant and uncompetitive in the employment market. They want possibilities for advancement, promotion, competitive wage structures, and feedback. Such provisions may help them believe they're progressing even if they stay with the same organization.
They respect autonomy, love learning and growing, and appreciate opportunities to contribute to society because they are sincerely committed to doing good. This is a key factor for keeping millennial employees engaged at work.
Allow employees to work remotely.
Millennial employees prefer to strike a solid work-life balance. Allowing employees to work remotely may contribute to this. Consider allowing staff to work from home regularly. This may entail creating a roster to allocate days each week for each team member for remote work.
This depends on what works best for the entire business, department, and team! When asked how they would prefer to schedule their work time, Millennials (53%) said they would spend the least amount of time in the office, followed by Gen X (56%) and Baby Boomers (63%).
Certain technological improvements may be required to ensure that team members can access systems from home and execute their jobs properly. While this may initially result in an added expense for the company, the ability to retain your younger team members, in the long run, is likely to offset those costs.
Create a flexible work schedule
Millennial workforces prefer flexible work schedules. They frequently desire to meet deadlines rather than adhere to a roster that specifies when they start and end. Millennials thrive on self-motivation and the ability to be their boss. Developing a flexible work schedule could be an excellent strategy to recruit younger staff.
Making a flexible work schedule may allow employees to choose their work hours. This may help to establish a positive company culture and instil trust in staff to achieve deadlines. Millennials who believe their organization has a high-trust culture are more than 22 times more likely to want to stay for a long time.
In comparison, Gen Xers are 16 times more likely to want to stay than Baby Boomers. A flexible work schedule may also imply that they can complete their work at a convenient time. When millennial employees work their hours, they may be more productive, benefiting the company's productivity.
Create a diverse workplace
Millennials are an open-minded generation that expects diversity in their work environment. They advocate for diversity in all aspects, including age, culture, physical abilities and disabilities, colour, religion, gender, and sexual orientation. You may promote diversity in various ways as an HR professional or team leader.
Among these methods is educating staff on using inclusive language to ensure everyone feels appreciated. 69% of employees who believe their senior management teams are diverse describe their work surroundings as inspiring and stimulating, compared to 43% who do not believe their leadership is varied.
As a result, employers may also want to explore allowing employees to take additional leave to recognize days of celebration in their culture as well as national holidays. This can be an effective technique to demonstrate respect for various cultures and beliefs.
Give consistent feedback
Millennials are heavily exposed to social media, and it is normal to receive almost immediate comments on something they post. As a result, millennial employees prefer to receive regular feedback at work rather than having an annual performance review.
When their boss meets with them regularly, 44 percent of Millennials feel they are more likely to be engaged. However, only 21% of Millennials meet with their manager on a weekly basis. Giving staff regular feedback on their development could be a beneficial practice to implement.
You can organize regular meetings with individuals to get feedback on how they're doing with their work and to open up communication channels. This is an excellent method to make staff feel valued and ensure they are on the right track to success. It would be best if you also considered holding more formal meetings to document goals and objectives for your team.
Be open to different management styles.
Different management styles may appeal to different generations. Younger employees, for example, frequently respond favourably to management's coaching or mentoring style. When it comes to task scheduling and time management, millennial employees often prefer to use their initiative. Managers who want to recruit and keep millennial employees should practice active listening and be receptive to the valuable perspectives millennials can bring to the workplace.
Adopting a management style that respects the needs of millennials can considerably improve a company's ability to attract and retain personnel from this generation. Millennials who feel their workplace management is flexible are 59 times more likely to recommend their company to friends and relatives enthusiastically.
Encourage teamwork
Millennials frequently want jobs where they can enjoy their time at work. Encouragement of teamwork may be advantageous in keeping millennial employees. Setting goals for a team to work toward and ensuring that all team members are in the office together on certain days of the week may be a fantastic strategy to build a strong team focus.
Consider matching new employees with someone who has been with the organization for an extended period. This can be pretty beneficial for efficient onboarding and training. This may also aid in bringing together new and old personnel and allowing for open conversation to foster innovation and new ideas.
Foster meaningful work
Millennial employees value work which provides more than financial gains for the company. Only 47% of millennial employees believe business leaders are committed to helping society better, down from more than 62% a year ago. In a survey of 10,500 people, only 48 percent believe corporations act ethically, down from 65% in 2017.
Millennials prefer to work for companies that provide them with more than just a job. Also, millennials want to feel like they are making a difference and contributing to a more significant cause. Previous generations of team members are also likely to respond well to meaningful employment.
There are numerous strategies to cultivate this attitude in the workplace. One idea is to give back to the community by providing employees with a few hours each week to volunteer in a community service project while also providing them with the security of being paid for these hours by the company.
It is also a good idea to create a mission statement for the company if one does not already exist. A good mission statement can help you express the goal of your company and the differences you wish to create in the community. A company's mission statement can be something that attracts younger personnel.
Encourage open communication
It is critical to creating an environment where employees feel comfortable sharing their ideas and conversing openly with managers and other team members. Open communication can make team members feel appreciated. It is also likely to assist team members in building good workplace relationships and motivate them to support one another.
Allowing team members to contact you without organizing a meeting as an HR manager or team leader may be a terrific way to create trust and rapport. A study by Robert Walters Group showed that 30% of millennial employees believe meeting colleagues in a social setting is essential to their workplace induction.
Another fantastic technique to open contact with your team members is to ask for their ideas and input when making choices that affect the entire firm. People are more likely to feel heard if they see improvements done based on what they shared with you, which can help promote a cohesive workplace.
The importance of attracting and retaining your millennial employees
Not only do millennials constitute a sizable portion of the current workforce, but they also constitute a sizable portion of a company's client base. Knowing and understanding your clients is critical when working in management. Listening to the ideas that millennial employees can bring to a company can help you reach the company's target demographic.
Hiring millennials may also introduce fresh ways of thinking. Millennials are frequently tech-savvy and have a digital presence, and their positive attitude and transparency usually bring new ideas to a job, team, or organization. For instance:
According to a survey, 38% of Millennials have the "latest and greatest" personal devices, compared to 25% of Baby Boomers.
53% of Millennials not in IT departments said one of their first three ways to solve a digital technology issue would be to look for an answer on the Internet. That dropped to 41% with non-Millennials.
Millennial employees aim to offer value to their job and to advance their careers. As a result, they might be ideal employees to mentor and elevate to leadership positions within the company as older employees retire. Consequently, invest in Millennial employees' leadership development to help them develop crucial leadership skills and organizational competencies to attract and retain them.