Do you deal with multi-location employee scheduling? Do you have to staff and manage multiple sites? Are you struggling with knowing whether your employees are at their designated worksite? Then this is the blog post for you. We are discussing the best ways to handle multi-location employee scheduling to make your life as easy as possible! Read on to find out more.
Multi-location Employee Scheduling
Scheduling your team is tricky. Now add in multiple locations and you are in trouble! Multi-location scheduling means managing numerous teams at different locations which means varying regulations and practices. This makes your scheduling process time-consuming and difficult. However, that doesn't have to be the case.
1. Matching demand for staff
One of the biggest difficulties with scheduling is managing the demand peaks and troughs for staff. Getting the balance for one location is hard enough and then adding in other locations can really confuse things. You need to ensure all locations have enough staff to run smoothly but not too many that you are overpaying for work done.
2. Differing labor laws
Different locations will have different labor laws and regulations to follow. For example, in British Columbia, Canada, all employees are entitled to overtime pay at 1.5 times their regular rate if they work more than 8 hours in a day or more than 40 hours in a week. Whereas, in Ireland, there is no legal right to pay for extra hours and no statutory levels of overtime pay. This is the same for shift lengths and minimum wage, which are all different depending on where the work location is. You need to be compliant with all these regulations to ensure you are making a fair schedule for your employees.  
3. Lack of communication
Communication is difficult for companies with multiple locations. The bigger your team is and the more locations you have, the bigger impact it will have on how management communicates. For smaller teams, you will more than likely see them a lot more often and can have regular face-to-face communication. Things get more complex with larger teams in multiple locations. You will need to be more savvy when it comes to communication so all your employees are being made aware of shift information and changes.
4. Time and attendance tracking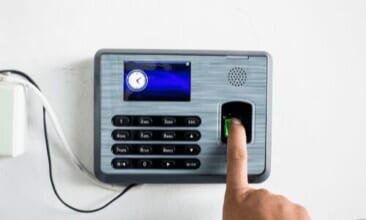 Your locations often will have varying technology systems in place to track employee scheduling. One location may use timesheets while another uses time clocks. Having different time collection tools make it more complicated for you to track and record all your employees' hour worked. Your locations should all have a consistent time tracking technology to make it easier for you and your reporting and payroll. Don't even get us started on payroll!
5. Shift tasks
Similar to communication difficulties with big teams, trying to put shift tasks in place for multiple locations can be difficult. How do you ensure your set shift tasks are being done across multiple locations when you're not there to oversee? Well, we'll get to that later.
Here's how to handle multi-location scheduling
Now that we've looked at the common problems associated with scheduling for multiple locations. Let's take a look at 4 ways you can master it.
Start automating your scheduling
The best way to handle multi-location scheduling is to start using automation in your employee scheduling. Employee scheduling software like Celayix will makes things so much easier for you and free up a lot of time.
Keeping track of employee availability across a number of locations is way too time-consuming, and it doesn't have to be. With automated employee scheduling software, you can forecast demand based on previous shifts and recommend the correct number of employees for each of your location. This will give you peace of mind that you won't ever be understaffed or overstaffed.
Consistent communication tool
Communication is the key for great scheduling. You should use a consistent communication tool across all your sites to ensure your employees get the information they need. Having a mobile app is a great way to reach your team instantly as it allows for messaging between employees and between management. You can also send instant notifications, SMS messages and emails. The Celayix mobile app will send out shift reminders and notifications of shift changes that occur. This means your team are getting the information right where they need it.  
Geofencing
Geofencing is an absolute must for schedulers with multiple locations. If you don't know, geofencing allows you to set up a virtual perimeter around your work site. It is useful for multiple locations as you can create a geofence around one of your locations for employee check-in. Your employees have to be within this area to check in and out of their shifts. You know that your team are actually on site when they check in and are not engaging in time theft or buddy punching.
Shift replacements
Employee scheduling software should have a find a replacement feature. If one of your employees drops a shift last minute, you don't need to stress as software like ours will recommend a best-fit replacement in seconds. This eliminates the pain of searching for a qualified employee and ensures the best possible replacement is selected for the shift.
Shift tasks
We mentioned previously this can be difficult to implement with multiple locations. Well with employee scheduling software like Celayix you can include a list of shift tasks for your employees which they will see on their mobile app at the start of the shift. For example, safety checks in the security industry are very common, or electronic verified sigantures in the healthcare industry. Employees are required to check when they've completed a task upon sign out. This is great for when you have multiple locations and can't be there to physically remind your team of tasks to be completed.
Use business rules to ensure compliance
To ensure compliance with regulations in different locations you can use a feature called a rules engine. This gives you complete control over complex areas like overtime. You basically set up a rule for overtime which can save you upto a whopping $100,000. Create a rule based on the hours worked and choose to disallow employees from going into overtime. This means when your automated schedule won't select employees to work a shift who entering into overtime. This doesn't just apply to overtime, but if you have other requirements such as employee qualifications, legal requirements or availability our rules engine can work for these too.
Handling multi-location scheduling doesn't have to be as time-consuming or as complicated as you think it will be. Once you have a good employee scheduling software like Celayix that is built to handle these complex situations then you can handle anything!
Feel free to reach out to us here if you would like to discuss how you can start scheduling for multiple locations today!