The rapid advancement of digital technology has made it an unavoidable part of daily life in recent years. Advanced technology has revolutionized the way we work and simplified many aspects of our daily lives. At work, the impact of technology can be seen in the company's structure, organization, and everyday operations and the growth of its relationships with employees, partners, and consumers. However, despite all the understanding, the implementation of moving away from paper has been challenging! This of course, can make it seem impossible to become a paperless business.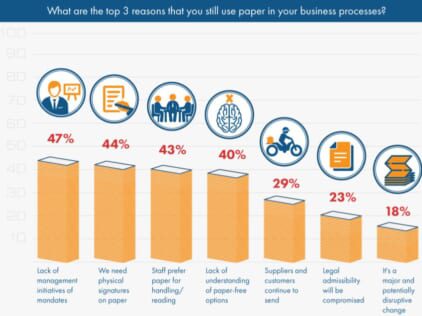 Based on a survey of employees done by eFileCabinet, the primary reason for businesses not moving away from paper in their business processes is the lack of management initiatives towards going paperless. The results from the survey pose an essential question to businesses: If employees are ready to go paperless, what's stopping the business? As it turns out, there are some challenges to becoming a paperless business, which might be significantly costly.
Challenges of becoming a Paperless Business
The average American office worker goes through 10,000 sheets of paper annually. Paper consumption in the corporate world is so massive that humans have become entirely reliant on paper for all types of documents. As per the research vice president at Gartner, Ken Weilerstein, the portability, universality and familiarity of paper will restrain the business efforts to complete digitalization. As a result, it is vital that we first identify some common challenges that businesses face in becoming paperless.
Potential for Human Error
Surprisingly, even with computerized record systems, the possibility of human error exists. Employees must be trained with the modern technologies and why they are being implemented. Without familiarizing the employees with the replacement of paper, it's more likely that employees make incomplete documentation or accidental deletes. Once an employee makes an error, it could have a dampening effect as employees find business processes more complicated and lose belief in technology.
Digitizing Old Files
Digitizing old files is no ordinary task. Usually, this would mean going through decades of paperwork and scanning them while also ensuring there are no errors. Compared to new files digitizing old files can be much more annoying because:
Older paper-based documents are delicate, especially if they are not stored properly or are exposed to poor environmental conditions, such as humidity and sunlight. As a result, installing and inserting the production scanner should be done with extreme caution to avoid destroying some time-sensitive documents.
The text and graphics on old documents begin to fade, and some of the documents are nearly unreadable, necessitating more processing on the electronic image after scanning to produce a high-quality result.
Occasionally, old documents are not separated and saved in the customer-specified categories. Reclassification of documents takes more effort and time a result of this.
Hardware Failure
A hardware failure resulting in data loss is one of the most severe hazards to a paperless organization. The organization must back up its data regularly, especially if technology fails. Cloud-based storage can safeguard an organization from losing critical data, especially in a flood or fire.
Security Failure
Data protection is vital to the functioning of various business processes. For instance, in case of security failure or hacking, it can jeopardize the company and the clients. The ability to secure paper through physical security has often become the preferred option for companies than using secure protection against hackers for their digitized documents.
These challenges are common for many businesses, and there are potentially many other challenges that different management teams feel regarding implementing a zero paper in the business strategy. Nevertheless, there are ways that we can tackle this challenge and make our business paperless effortlessly and efficiently.
How to Become a Paperless Business
To become a paperless business, companies must find ways to replace paper rather than completely eradicate paper and then hang themselves out to dry. Here are some ways that companies can use to reduce paper use in their operations, and then soon enough, go completely paperless.
Store documents and files digitally in the cloud
Using cloud computing, companies can quickly scan documents and store them digitally. This allows companies to:
Use online storage such as Google Drive or Dropbox, back up and save crucial data and documents.
Ensure vital records are never lost as Data backups can be automated.
Share files with coworkers and customers quickly and effortlessly, without the added expense of faxing or mailing.
Increase security and control over who has access to documents. This reduces the risk of critical material falling into the wrong hands.
Scale your data storage capacity, which will become increasingly crucial as your small business expands.
Avoid printing presentations and using notepads
The use of information-sharing technology to replace notepads and printed presentations is another crucial step in shifting to a paperless business. Hard-copy presentations are expensive to produce, are prone to misplace or damage, and are difficult to distribute to remote personnel. In fast-paced work contexts, notepads might be inefficient for taking notes. To become paperless in your business meetings, follow these steps:
With a simple HDMI cable, you can project slideshow presentations from your laptop or phone to a television or projector for in-person meetings.
Present your slideshow in video conferences with distant workers by pressing the button that allows you to share your screen.
During the meeting, assign one person to take notes on a laptop.
Once the meeting is over, share presentations and notes with attendees through the cloud.
Everyone who has access to the papers will contribute to the notes once they have been shared. You can also change the document's settings to grant different access levels to those you share it with: viewing only, viewing with comments, or full editing privileges.
Use electronic communication instead of traditional mail
Shifting to electronic communication is one of the simplest methods to go paperless at work:
Email allows you to communicate more quickly than letters, receive a faster response from the receiver, and keep a copy of all correspondence on your computer.
With the stroke of a button, project management tools like Basecamp allow you to track and get updates on the status of projects.
Internal communications in your small business may be made more efficient and convenient with instant messaging solutions like Slack or Skype.
Text messaging is becoming increasingly popular for sending memos.
The use of paperless billing for phone, internet, and utility bills helps to reduce waste.
Small businesses can use electronic calendars to organize conference calls, client calls, meetings, and vacation time without wasting paper.
Copy documents with scanners and phone apps
What happens to your existing paper documents as you transition to a paperless office? Scanning them into PDF format and uploading the copies to the cloud is possible. You can use the scanner on your printer or get a scanning app for your tablet or phone. After uploading documents, shred them as a security measure. Hard copies, hence would only be necessary if it's for an additional backup.
Digitize your business processes and financing
Taking your procedures digital can boost your small business's capability and performance, resulting in improved customer engagement and a more seamless user experience. For example, a paperless company could set up an online ordering system for customers or provide automated technical support for their products 24 hours a day, seven days a week. The customer is better served in either instance.
When it comes to becoming a paperless business, digitizing your finances is also a good idea. Digital receipts, for example, are great for salons, restaurants, retail stores, and other small businesses, as they benefit both you and your customers. A digital receipt will not fade or become lost. They can also be customized for specific consumers, saving time during transactions. Direct deposit is another example of becoming paperless with your finances. Electronically sending funds to a payee's bank account is not only less expensive (and safer) than writing checks, but it also makes record-keeping easier.
Invest in energy-efficient office equipment
As employees switch to reading papers on electronic devices, one of the potential drawbacks of becoming a paperless organization is increased energy use. However, just because your company is going paperless does not imply paying more for energy. Increased electricity usage can be mitigated by installing LED lighting, energy-efficient printers, and other energy-saving equipment.
Rent expensive equipment if necessary
For a small business to become paperless, it may be necessary to invest in new computers, tablets, and portable digital payment devices, which might be pricey. Leasing your more expensive equipment is one helpful paperless-office tip. You'll save money on upfront charges, repairs, upgrades, and equipment maintenance fees this way. Leasing also allows you to try out different pieces of equipment until you find the one that works best for your paperless organization.
Use digital/online employee schedules
According to QuickBooks, almost 1 in 2 shift workers (45 percent) in the US get their weekly work schedule on a piece of paper. On top of that, 68% of employee work schedules are handwritten. As providers of employee scheduling software, we can talk for days about the impact paper schedules can have on your business, outside of trying to become a paperless business. Digital schedules will certainly reduce your paper consumption, but they will also help you reduce absenteeism, costs, and overtime. In turn, you will see improvements in employee engagement, attendance, and efficiency from your schedulers.
Use e-signatures for contracts and transactions.
Signing contracts and agreements in a paperless workplace no longer entail extensive printing paperwork for a few signatures. Instead, electronic signatures replace this time-consuming and costly method. Your POS system may already support e-signatures for credit card transactions. E-signatures are legally binding and allow you and your clients to examine and sign papers from any location, making them a popular solution to go paperless in salons, offices, stores, and any other business that avoids physical touch between them people.
Benefits of becoming a paperless business
Better organization:
Manually sorting and keeping track of papers takes time; a cluttered, chaotic stack of loose documents makes it even more time-consuming, especially if you're looking for a specific document. Disorganization can significantly reduce your productivity; the average person spends roughly 10 minutes each day seeking misplaced objects. That means you pay around six months of your life looking for lost stuff.
Do you want to reclaim your time and put it to better use? Begin by choosing more organization and streamlined paperwork processing. Going paperless will relieve you of the stress of keeping up with the clutter. You'll also never have to worry about losing that one invoice that needs to be cleared because it'll be stored in the cloud.
Collaboration
When you digitize your paper-based operations, your entire team has constant access to the information they need. A file left on someone's desk, a stray note with crucial details, a filing system that only one person understands… This might mean disaster for your company.
If a critical employee calls in ill or you need to leave the workplace, your staff may have trouble finding the information they require. Paper-based processes might result in a loss of productivity and a reduction in customer service.
By becoming paperless, you can avoid a breakdown in vital information sharing. Rather than becoming lost, files are accessible from anywhere at any time. This gives your employees more straightforward access to the information they require.
An office environment that sparks joy
When visitors come to your office, what do you unwittingly tell them about your business? Whether you intend it or not, the appearance of your workplace communicates a lot about your company to your customers and staff.
Stacks of papers on your desk are a thing of the past. For your customers, an uncluttered, paper-free office presents a more professional, modern image and provides a more comfortable working atmosphere for your employees.
This type of streamlined organizational arrangement also provides a financial advantage. Office space isn't inexpensive, as most business owners are aware. Instead of wasting office space-maintaining paperwork, computerized systems may store all the same data in a fraction of the space.
Increased efficiency
Any successful firm relies heavily on efficiency. When you reduce the time spent on busywork, your team can devote that time to more critical, value-added tasks—going paperless means spending less time on clerical duties and more time on more critical tasks.
Completing, filing, organizing, and keeping track of paperwork can take up much time; going paperless allows you to spend less time on paperwork.
Filling out paperwork has also become easier because of technological advancements; digitally acquired data can be used to automatically construct rules that generate applications. Validation methods decrease errors and assure complete data in automated systems, allowing you to fill out information not only fast but also reliably.
Reduced costs
Adopting a paperless office saves your company more than simply paper. As your reliance on paper decreases, you'll save money on printer maintenance, ink, toner, shipping, and physical storage, to mention a few things. This is why switching to a paperless system saves businesses an average of $80 per employee.
You will save on far more than just printing and paper costs. Offices that are becoming more efficient will repurpose your money as well. For example, you pay for your employees' time; the more time they spend performing value-added work rather than manual paperwork, the higher the return on your investment will be.
The benefits of a paperless business can drive businesses toward faster growth and improve their brand image. By going paperless, companies can get easier access to different systems and hence do their business operations much more efficiently. Celayix itself strives to make this world paperless and digitized, making the world as environmentally friendly as possible. Celayix's scheduling software, for instance, can help businesses ultimately digitalize operations such as workforce management, billing and payments etc. By following these steps towards digitization, companies can become a leader in the digital world and finally achieve peace of mind from the clutter and chaos that paperwork brings.