At Celayix, we work with a great number of security businesses and companies, varying in size and needs. They typically require security guard scheduling software among other things. The security guard companies that work with us have seen business growth even during this pandemic. We've done the research, and we've listed 3 ways to help your security guard business grow.
Schedule Guards Efficiently
The most common size of security guard businesses that we see is around 50 guards. Why this number of guards? One reason is that manual processes start to cause problems when a security company surpasses 50 guards. Using spreadsheets to schedule employees can work with a small team. However, it's a short-sighted strategy if you want your security guard business to grow. Soon, human error will become prevalent, with too many rules and notes about employees to remember. Errors associated with overtime, payroll, and double booking begin to become more and more common, and will start to hamper operations. In addition to manual errors, the owner or scheduler can be bogged down spending a vast amount of time scheduling their guards. When management has to waste time scheduling, there is less time to focus on growing the company and generating new business.
Security Guard Scheduling Software
Scheduling software becomes a need as your business grows. For example, using our software scheduling can be done in a few minutes. Scheduling features like shift bidding, shift swapping, self-scheduling, or scheduling powered by AI help you save time in scheduling. For Celayix, all of these functionalities are backed up by a robust rules-based scheduling engine that can filter security guards by qualifications or by skill level.
Software with AI functionalities can help optimize your schedule for minimal labor costs. At Celayix, our AI engine, can automatically optimize your schedule and fill all shifts automatically, strictly following the rules you've set up. It guarantees your guards are covering all the billable hours in your client's contract. Celayix AI also comes with automatic overtime management, making unbillable overtime hours a thing of the past.
Using software to schedule saves you time and also ensures scalability with your business growth. No matter how many more employees you may end up hiring on, you have a scheduling process that carries through the growth. With less time spent on scheduling, you can dedicate more time towards other areas of your business.
Keep Guards Accountable
Having secured a new deal with a client, a major concern is the deployment of guards at your client's site. It's hard to keep guards honest. Some guards do not show up or even falsify their reports of being at a client's site. As a result, complaints get made and a client's trust is reduced. No shows, absence and guard lateness reflects poorly on your company.
To keep all your guards accountable and present, workforce management software is a useful tool. Celayix has a few features that can help with this. Our geofencing feature is a powerful feature to combat underhanded tricks that guards use to cheat their time clocks. Geofencing allows security guard companies to set an area around the client site in which the guard can sign in. The guard must be within the area or the "geofence" for the sign-in feature to be activated. When the guard signs in or out of their shift, a timestamp is recorded. Geofencing accurately ensures your security guards are the right location at the right time. This guarantees that the client can be happy with the level of service they are receiving.
Another problem for small security companies is the high rate of guard turnover. This can make scheduling a very difficult task as rosters are constantly changing. Celayix has many features to help schedule guards quickly if one drops out. When a guard quits and you need to find a replacement quickly, a few options you can use are shift bidding, open shifts, and self-scheduling. Notify the new guard in charge of the shift through our notification system and you can see how easily a replacement can be found using our software.
Pitch Better to Prospective Clients
When looking for new contracts and pitching to prospective clients, your security company needs to look like the best possible option. Clients are more demanding than ever and they want to see that your company has the necessary mechanisms to keep them safe. By implementing the right systems in place that ensure smooth business operations, here are some points that can make you stand out against competitors: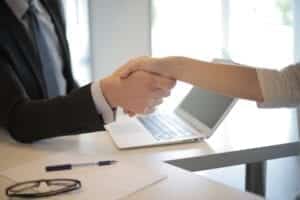 Data reporting

With the right workforce management software, you'll have access to data insights that you can share with your client if needed. They may want to know specifics about your workforce, including qualifications, available staff, and so on. Having software that can easily give you the data to a prospective client can help their decision-making process.

Celayix has a number of features including break management, credential tracking, and labor forecasting.
Guard tracking and communication

As mentioned before, geofencing is a powerful tool that ensures your guards are in the right location at the right times. This demonstrates your company is responsible and trustworthy.

Good communication is always an asset. Celayix's in-app communication notifies you of no-shows and late guards as soon as they happen. You can also find a replacement easily and at no cost to you or your client with the "Find Replacement" feature.
Business Optimization

Having an efficient back-end system allows you to run your business smoothly in a cost-effective way. Workforce management software (like Celayix) reduces labor costs and eliminates over time by scheduling guards efficiently. With these saved costs, you can improve other areas of your business. For your client, that also means they are getting value from your services. They don't need to worry about paying additional overtime and can have confidence in their budget and contact.
How Celayix Can Help
As mentioned, we've helped many security guard companies grow simply through efficient scheduling and workforce management. AI-optimized schedules created in minutes coupled with guard accountability features like geofencing helps your business growth and reputation.
Get in touch with our Solutions Advisors for a free consultation on how Celayix can help your security guard business grow.