Organization
Miller Event Management, Inc provides security and safety services for their clients, while setting the standard for the industry.
Location: Califorina, USA
Industry: Event Management and Security
Company Size: 700 Employees
Challenges
Miller Event Management (MEM) was searching for a workforce management solution. They wanted to reduce the time and effort it took to collect and verify hours worked of its hundreds of staff members. This was a necessary, bi-weekly step required before sending the information to the payroll department to ensure accurate and on-time payroll and billing. Every two weeks, their manual tracking and verification process would take the time of multiple people over many days.
MEM began their search for a solution to:
Automate the recording of time and attendance information accurately from the field
Reduce the time spent and calculating time worked by employee before the information is sent to the payroll department to calculate the taxes and withholdings before payroll is distributed
Eliminate errors that were made during their manual process
Solution
Working with Celayix, MEM was able to implement a workforce management solution that met their key goals. Specifically, they were able to:
Automate the collection of time and attendance information from their staff from multiple locations
Save time by removing the need to translate and manually verify time collection information from the paper timestamp into spreadsheets before sending it to the payroll team
Reduce the time spent in the data entry and verification process
Reduce the potential for input errors by moving to an automated process
Results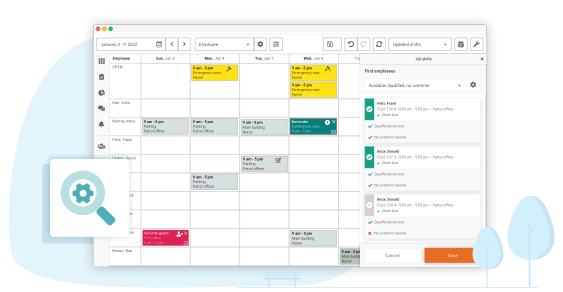 Significant Time Savings
Using Celayix, MEM was able to achieve significant time savings immediately. With the automation in the collection and verification of hours worked, MEM saw a 65% time savings, reducing the 30+ hours spent every payroll period to less than 8 hours.
Improved Scheduling Process
After the successful implementation of Celayix for time and attendance, MEM also began using Celayix for employee scheduling. Even in the early stages of implementation, the employee scheduling module resulted in a time saving of over 65%, reducing the effort from 3 days to less than 8 hours.
Using the employee scheduling software component of Celayix will likely yield even more significant efficiency gains. Especially as they implement it further throughout the organization. Celayix uses a market-driven approach to the development of new features. We rely on customers to provide feedback and suggestion for improvements. MEM will continue to see further gains from advancements made in the software that fits their industry and their business needs.